Axu (ཨ་ཕྱུག)Town and Axu Grasslands are situated in Dege County in the Garze Tibetan Autonomous Prefecture of Sichuan, China. It is an isolated region in eastern Tibet that includes green pastures dotted with sturdy yaks, snowy, lofty and rugged mountains and crystal clear lakes. The small Axu Town and its surrounding grasslands are inhabited by nomadic herdsmen and their grazing yaks.
Axu Grasslands
Axu Grasslands are located about 230 kilometers northeast of Dege Town. Axu Grasslands cover an area of 800 sq. kilometers, and have the Yalong River flowing through it. These grasslands not only provide picturesque sceneries, but are also known for their harsh climatic conditions. The Chinese government plans to initiate projects of large-scale farming of wheat and barley, and gas exploration in Axu Grasslands. Since the grasslands are at an altitude of over 4,500 meters, they thus remain frozen for six to nine months a year. Nonetheless, this harsh and inhospitable area is believed to be the hometown of the famous Tibetan, King Gesar.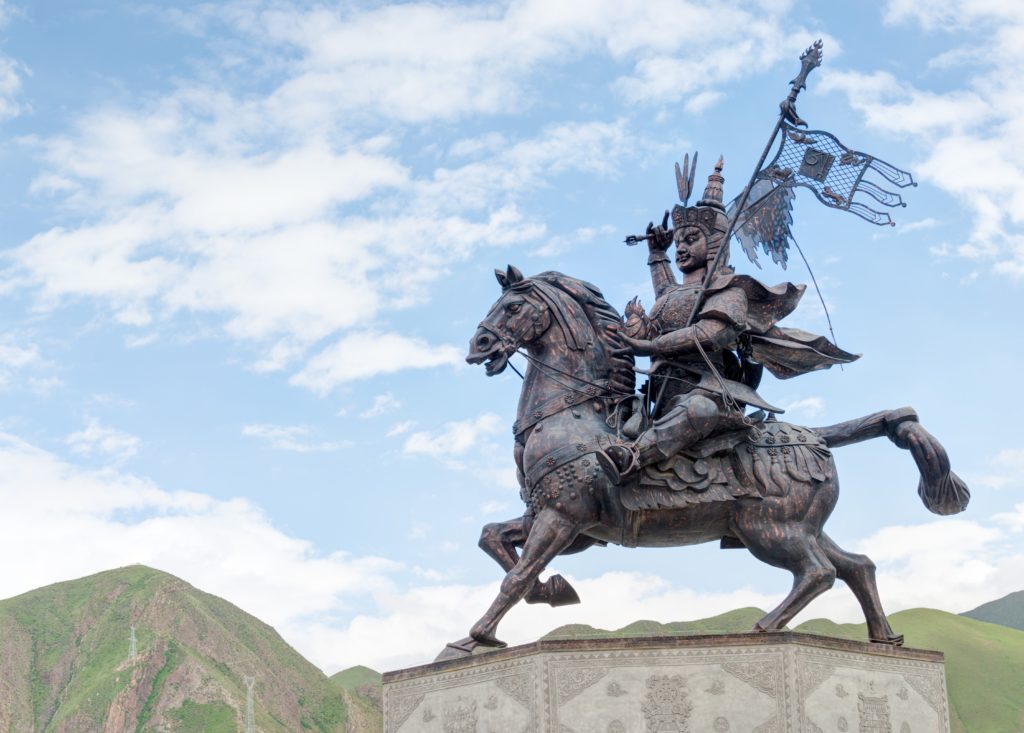 The Legendary King Gesar
A famous hero and warrior, King Gesar is said to have been born in the Axu Grasslands and was the ruler of Ling Kingdom in east Tibet during the 11th century. He is considered to be a fearless leader who waged war against all the enemies of the kingdom and protected the poor. Different versions of King Gesar and his life exist across Tibet and Central Asia including a number of Tibetan versions, a Mongolian version, a Buryat version, a Lower Ladakhi version, a Salar version, and a Bhutan version.
The Famous Temple
The temple of King Gesar was constructed in the Axu Grasslands in 1970 by Ling Cong and was later renamed Memorial Hall of King Gesar. An enormous statue of King Gesar riding a horse stands in the main hall of the temple. The heroic tales of King Gesar are widely told by the inhabitants of Axu Grasslands in the form of stories, songs and dances. The 'Epic of King Gesar', the greatest literature work on the life of King Gesar, is popular in Tibet, Sichuan, Inner Mongol, Gansu, Qinghai and other places. In the Axu Grasslands, celebrations to honor the legendary warrior take place often.
The Epic of King Gesar
Similar to Iliad of Greeks and King Arthur of medieval Europeans, Tibetans have the Epic of King Gesar. Rooted deep into folklore, stories of King Gesar had been passed down generations orally while its written beginnings are found back in 1716 when it was, upon Qing Emperor's order, translated from Tibetan. This Oriental Iliad covers important reigns of Tibetan social development and also descriptions of countless tribes and regions. The Epic of King Gesar is the longest work of literature in the world with over 120 volumes and 20 million words in more than 1 million verses.