Zhilam Hostel is perched on a hillside above the city of Kangding, offering amazing views of Kangding town and the local mountains. After a short and invigorating climb (or taxi ride) up the narrow, winding road to the guesthouse, you will find this haven of coziness and hospitality a welcome reprieve from the bustling town below.
Zhilam means "the path of peace" in Tibetan. The hostel is a place of peace and rest where travellers soon begin to feel like family. The owners, an American family, fell in love with Tibet and Tibetan people when they first traveled to Tibet. Kris and Stephanie dreamed of having a home in Tibet where they could welcome visitors into the mysterious and beautiful world of Tibet. Through passion and years of hard work, their dream has become a reality. For 12 years now, thousands of travelers from around the world have found themselves adopted by this generous family, many of which have extended their stay in Kangding just to enjoy an extra day or two of peace and rest in this hidden sanctuary. In Sep, 2019 Kris and Stephanie sold their business to a  local Tibetan guy- Gongbu as local government enforced a law that foreigners are not allowed to run business within 300 meters of a government building. Zhilam Hostel is within 300 meters of a government building. Now, the owner of Zhilam Hostel is different but the staff and services are as same as usual.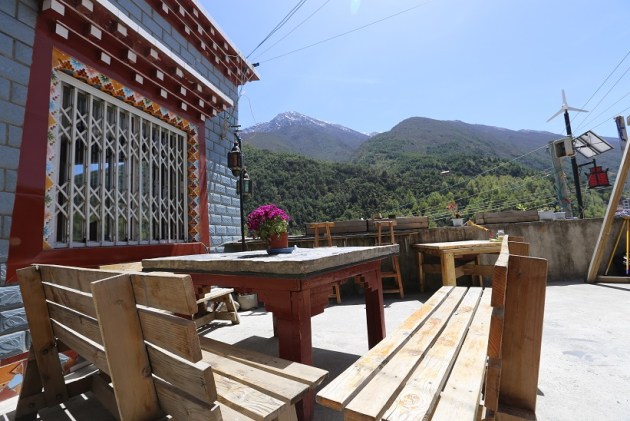 The Yard of Zhilam Hostel
The helpful and friendly staff are all locals, and they are happy to share their immense knowledge about the town and surrounding areas. All of them speak good Tibetan, Chinese and English. Their eagerness to offer advice and suggestions makes it easy for guests to find great hiking, beautiful scenery, and delicious local Tibetan food! They go out of their way to help arrange transportation for a good price as well.
You'll find a diverse menu that includes delicious western and local Tibetan foods, great desserts, special drinks, and even imported beer. For dinner, potato and yak meat momos, yak meat pizza, and moroccan lentil soup are all some of our favorite options. They serve breakfast starting at 8:00am. The yak yogurt with homemade granola and western-style eggs and toast are among the most popular items first thing in the morning.
Kris and Stephanie are also passionate about supporting and promoting other local businesses, as well as featuring locally made handicraft products in their hostel. If you are interested in Tibetan handicrafts, simply ask the staff for an introduction to the various items on display. In addition, Zhilam Hostel has an extensive library of books that you can borrow to read, or you can watch a movie in their cozy movie room downstairs.
Rooms are very clean, comfortable and nice. You have the option of staying in a private room with a big bed and ensuite bathroom/shower, or staying in a clean and quaint dorm with shared bathroom facilities. Each room is designed with local Tibetan characteristics, and the beds are very comfortable.
Zhilam hostel is the perfect place if you are looking for Tibetan decor, comfortable and clean rooms for a reasonable price, fresh coffee, and delicious food.
Contact info:
Address: Bai Tuo Kan area, Kangding County 626000, China
Phone:  0836-2831100
Website: http://zhilamhostel.com
地址:白土坎村藏族自治州宗教事务局附近
电话:0836-2831100